Home / news / NEW! Black Pepper Specials
NEW! Black Pepper Specials
July 2019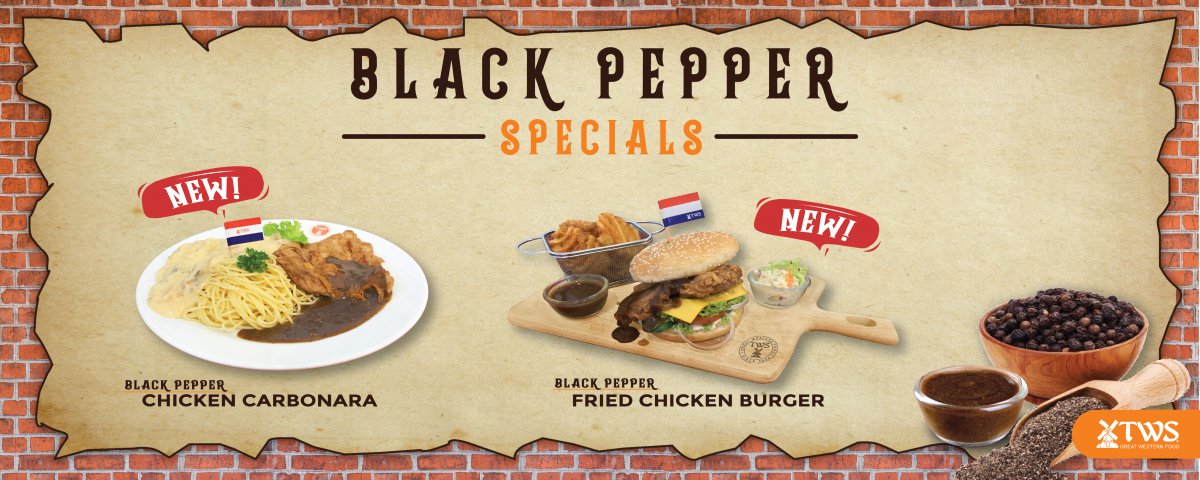 Black Pepper is the New Black at TWS! Introducing our new dishes on this July, it's BLACK PEPPER CHICKEN CARBONARA & BLACK PEPPER FRIED CHICKEN BURGER

Nothing beats the conventional black pepper paired with a perfectly fried chicken chop, and you know it will be superb. Try our NEW! Black Pepper Fried Chicken Burger,It is exactly the perfect pairing made for each other!

...and our NEW! Black Pepper Chicken Carbonara that is served with simmered black pepper chicken and spaghetti carbonara, will bring your pasta game to the next level! With carbonara melting in your mouth, coated with the fragrant black pepper sauce, there is nobody that could reject the perfect taste of this dish.

Get your NEW! Black Pepper dishes as an a la carte meal, OR add on a drink for only RM3.50, OR have a fresh fruit salad, mushroom soup, and a drink for an additional RM7 and it's comes in a big set too!

That's a worthy deal happening only at your nearest TWS outlet, go get them all now!
---